Today's Blue Ridge Career Diaries series turns to Ashley Hill, Customer Success Manager in the Atlanta office: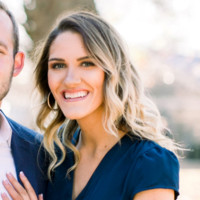 "I joined Blue Ridge on September 16, 2019. I've always been interested in the Supply Chain Industry and had experience working for other software companies. Blue Ridge combines the two!
What initially drew me to BR specifically was its unique culture. During the interview process I felt that I was interacting with real, genuine people. It felt less like an interview and more like a sincere conversation.
Empowered by Leadership
The leadership team was very approachable and kind. It quickly became clear that the team operates on care and empathy for one another, while constantly 'raising the bar' and continuously setting new, ambitious goals. I instantly felt that this company was a level above others, and it was an opportunity I could not pass up.
"Leadership makes us feel empowered and I truly believe the entire organization is a reflection of this team."
I can't say enough about the company's leadership. The Executives take the time to say hello and ask how you are doing. Leadership makes us feel empowered and I truly believe the entire organization is a reflection of this team.
Their passion, dedication, creativity, professionalism and love for work and play can be seen in all employees – which makes BR an entertaining place to be, as well as a great place to develop your career and enhance your skills. Leadership has always made themselves available to chat, even if it's about non-work related topics. The enthusiasm and respect for one another keeps me excited to return to work each day.
Culture of Open Communication
My boss in particular views the team members as equal contributors. She facilitates positive relationships with her employees and has worked to create a culture that encourages open communication. My boss is genuine and loyal and truly sets an example for the company [Editor's Note: Ashley is not kissing up; I know her boss and she really is great!].
I feel that at Blue Ridge, people care about me as a person and about my professional growth. There is a genuine spirit of collaboration and shared goals all around helping solve our customer's goals, which I have not found at other corporations. It's always evolving and is always a challenge.
"I love my job and the company I work for! I am proud to be a Blue-Ridger and can't wait to see what the next year has in store."
– Ashley Hill, Customer Service Manager, Blue Ridge
More from The 'Diaries:
Is Blue Ridge Hiring?
Time to start building your story? Blue Ridge is always seeking the smartest people in the industry who enjoy working in a positive environment to make awesome things happen for customers.🙌
Check the Blue Ridge Careers page to see other open positions and inquire about working with us.
Blue Ridge Employees who want to submit your story, please do so here.