If you're wondering what a Blue Ridge career might look like, you've landed in the right place. If you've been following our Blue Ridge Career Diaries, thank you! These are stories submitted by Blue Ridge employees on what it's like to join our team.
We've been publishing the first batch from our team in Pune, India. More stories from around the world will follow later in the series.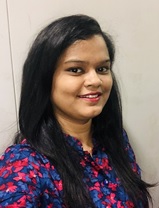 Today's employee story was submitted by Blue Ridge Associate Technology Architect Dhanashri Raskar…
Everyone Treated Like Family
"I joined Blue Ridge around 2 years ago, and since then, it has been an excellent experience for me.
I am overwhelmed by the opportunity and exposure I have received in this period. The organization has unique policies and flexible working hours that helps all of us, in the difficult times, manage work-life balance very well.
In the current pandemic situation, looking at the employees' safety, even when there were relaxed rules from the government multiple times, our organization has provided complete Work From Home for all employees for the entire duration so far, which is very heartening.
Latest and Greatest Technologies
On the professional front, Blue Ridge uses the latest and greatest technologies in the market today, which really helps employees cope with the changing and challenging market environment. The company has a strong mission and vision, which makes it stand up in the crowd.
Unlike other companies I have seen in my career, the specialty about Blue Ridge, which makes it from better to BEST, is that they treat every employee as a part of a family. With fun-loving colleagues to intelligent managers to interactive HR, I feel it makes my everyday count."
"An undoubtedly a Great Place to Work!"
– Dhanashri Raskar, Associate Technology Architect, Blue Ridge
More from The 'Diaries
Is Blue Ridge Hiring?
Time to start building your story? Check the Blue Ridge Careers page to see open positions and inquire about working with us.
Blue Ridge Employees who want to submit your story, please do so here.