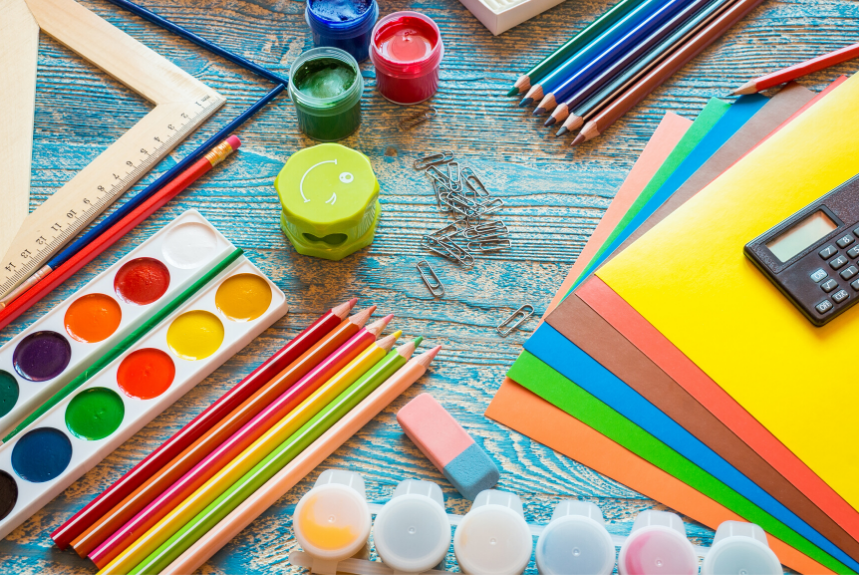 One of the toughest parts of a demand planner's job is answering tough questions from the executive office upstairs, like: "What are you guys doing down there?"
For Emeryville, CA-based art distributor MacPherson, Blue Ridge and its LifeLine supply chain experts provided that answer, and then some.
A Wide Palette of SKUs
MacPherson is the largest art supplies distributor in North America, serving 2,600 retail customers through a variety of channels, including independent mom/pops, regional chains, mass market and e-commerce. Their vast product portfolio spans more than 50,000 products and 250 brands and vendors worldwide.
Technology to Inform Conversations
Given the large share of any company's assets going toward inventory, MacPherson's wanted technology that could reduce costly uncertainties in planning and empower the team to have confident conversations about the things they are doing to positively impact the business.
A key priority was to preserve the company's high standard for service. But the expensive alternative of carrying high safety stock to make this happen was neither ideal nor necessary. In addition, MacPherson's struggled to get a handle on extremely long lead times for Asian imported products.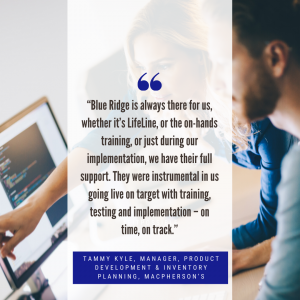 They engaged Blue Ridge's LifeLine team to implement and use Blue Ridge cloud-native supply chain planning solutions, which empowered them to proactively correct issues and make the right decisions to drive the company toward their financial goals.
The Power of The Cloud
MacPherson's is a veteran Blue Ridge customer, having first engaged Blue Ridge for inventory optimization in 2009. In 2017, they implemented Blue Ridge Supply Chain Planning to further refine inventory levels and automate their demand planning through the power of the cloud.
Blue Ridge SCP's true cloud-native architecture provided MacPherson's with:
Unprecedented precision – more powerful algorithms and virtually unlimited processing
Greater visibility – enabled by the broadening of demand and supply planning projections, and at the same time, the granularity of detail available in demand and supply plans
Faster pace of enhancement – easier, faster platform upgrades in a cloud-native architecture
The cloud allowed MacPherson's to depart from their spreadsheet method of buying, which often resulted in inaccurate forecasting, imprecise recommendations and slow reaction to shifting trends, disruptions and conditions. Rather than deploying averages, estimates and assumptions, MacPherson's inventory analysts are now using machine learning intelligence to meet the dynamics of today's market with precision and agility.
Precision Drives Customer Happiness
One of the biggest areas where this precision pays off for MacPherson's is their Asian import buying, where lead times are extremely long.
Rather than spreadsheets, the inventory analyst is now using Blue Ridge to get a realistic, timely picture of product availability and making smart buying decisions to protect the commitments they have made to their customers.
Since implementing Blue Ridge, MacPherson's has improved fill rates to meet their company service goal of 95%. This is especially important today, as online competition and customer sales/retention continue be hot topics at boardroom discussions.
LifeLine 'Instrumental' to Their Success
MacPherson's credits LifeLine, Blue Ridge's professional aftercare services team, for their success with SCP.
A lifelong stakeholder in the success of their customers, Blue Ridge LifeLine Consultants provide go-live support, along with ongoing guidance, professional development and proactive supply chain analytics monitoring.
LifeLine is instrumental to continually improving MacPherson's results by consistently alerting their team of:
Opportunities to improve customer service, inventory levels, cash flow and profit directly influenced by the team
Potential issues or disruptions that can be flagged, minimized or even avoided
Analytics, KPIs and overall performance measures that allow the team to improve and communicate those metrics to the business
LifeLine has monthly calls with MacPherson's to review their business, how it stacks up to others in the industry, and what's going well. They ask the tough question when things don't look right of, "What are you guys doing down there?" and MacPherson's gets to have the conversation: "Are we doing the right things for our business?"
LifeLine helps MacPherson's uncover important issues that can be easily corrected, so they can just keep getting better with the system.
"Blue Ridge is always there for us, whether it's LifeLine, or the on-hands training, or just during our implementation, we have their full support. They were instrumental in us going live on target with training, testing and implementation – on time, on track."
Manager, Product Development & Inventory Planning, MacPherson's