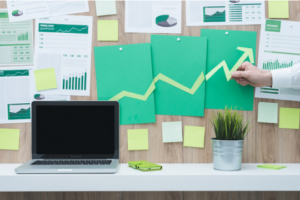 We all know what it's like to have extreme inventory challenges and to be expected to deliver big ROI results through supply chain planning software. But isn't it much more fun to watch and learn from another company going through it?
Admit it. You love knowing that you aren't alone. It helps to know that other supply chain planning and demand planning teams are also sweating. So imagine this scenario:
You're hired as a new demand forecasting team leader for a wholesale company. You are brought in and expected to align your team, install a new supply chain planning solution, then ensure that the two come together and deliver fast and dramatic improvement to customer experience and inventory reductions.
Sounds exciting doesn't it? Sounds like a lot of pressure, also? To us it sounds like great reality TV, so let's dive right in!
Today PlanningPosts welcomes special guest Chris Longhito, VP of Purchasing and Inventory Management at Global Industrial, along with Mike Mills, Director of Business Consulting, Blue Ridge, and Dan Craddock of Catalyst Consulting, to discuss 5 immediate ROI areas for supply chain planning software.
Episode 14 Show Notes
Will:Welcome back to our Planning Posts supply chain blog and podcast community! This is Will Haraway from Supply Chain Now and Backbeat Marketing, and I will once again be your host. I am especially excited to be your host for this episode!
If there were ever a chance to change the format from a podcast to a REALITY TV SHOW. Guys…. I think it would be this episode.
Welcome, Chris! And a big welcome back to our PlanningPosts 'resident' experts. Mike & Dan, tell me first…. can Chris do it?
Mike: Will, we have known Chris a long time. Trust me, if anyone can do it, it's Chris. I have worked with Chris and his teams for years, and he has trusted me with the training of inventory gurus. Chris hires and develops true supply chain planning professionals!
Dan: Mike, I like Will's idea of a Reality TV Series with this one. First of all, Chris is a big movie buff. He's even part of a weekly movie podcast crew.
But Will, I agree with Mike. Chris is such a unique talent. He has been in this position before and delivered really great financial results. If anything, I think our community will want to follow him not just for the enjoyment of watching them go through it, but to learn from his experiences. I think do have a chance for a podcast series here.
Will: Well Chris, those are some big expectations. Welcome to the show and tell us about your team and where your head is right now as you prepare to go from good to great.
Chris: Thanks, guys. [Gives overview of his company, position at Global Industrial, his great team, and a quick 30,000-ft view of the coming weeks].
Mike: We should mention also that Chris, like all of us, was an inventory analyst/buyer when he started, and because of his success Chris moved to the unique role of Champion Leader — then of course now, in recent years, reached the executive level that leads the inventory team.
Dan: Yes. So Mike and I were really lucky to work with Chris because whenever we had a new idea or new strategy we wanted to try, we would turn to Chris and he would implement it. You always go first where you know you are going to be successful.
Chris was the first to implement our Blue-Chip Buyer program and to do some of the
unique professional development of team members at Henry Schein.
The Henry Schein executives were committed to building the best inventory team in the world and they positioned and equipped Chris to be a key part of doing that.
What's the ROI of Supply Chain Software?
Will: So Chris, let me hit you right between the eyes. I want to ask you the same question that your company owners probably asked you….. What ROI results do you think you will deliver with supply chain planning software?
Chris: [Shares]
Will: Bold and aggressive. I like it!
So now the tougher question and the reason we are here. Tell our community HOW you and your team are going to do it?
In our title, we are promising them 5 Immediate ROI Areas of supply chain planning software. Mike and Dan, feel free to chime in and help him out or challenge his plan. We want our community to understand these 5 areas fully.
Chris: I will do it. And let me start by saying that Mike came in and helped me step through a smart process to figure out where we had our biggest ROI potential. Our 5 immediate areas might be different than other companies' top 5s, but I think everyone can learn something from our discovery.
When you use an advanced supply chain planning software tool for years, you quickly understand and feel the lack of the necessary forecast management tools when you step into an environment that does not yet have these advanced resources.
#1 – Savings from reducing safety stock
Mike: Chris, you have had some time to step back and look at things. Where do you think your first big win will be?
Chris: I think for sure that our biggest need, and for many companies their biggest miss, is GETTING THE SAFETY STOCK RIGHT.
I have seen the impact of having the math and processes to get the right safety stock on each item… [Chris continues – makes a point about reducing $$ on inventory on A items & finally hitting service on C and D erratic items]
#2 – Understanding seasonality
Dan: Chris, that is so interesting, but not shocking really about seeing strong and immediate benefit from correct Safety Stock including seasonal items.
I think most people would have expected you to say Demand Forecasting….
Chris: Years ago, I would have thought the same thing, but the inventory reductions are so dramatic when you get safety stock right!
All areas of Demand Forecasting will be key for us….but especially having advanced help with SEASONALITY.
I know we will see great benefit from having strong Seasonal Forecasts, but what might be more important is having a supply chain planning solution that shows us where seasonality is. [explains further]
Will: I'm not even an inventory management professional, but I can imagine that having a solution show you seasonal movement which you didn't realize was there would be a huge win.
What else will be game-changing for your team?
#3 – Replenishment optimization
Chris: Kicking the expensive habit of fixed-cycle buying.
You know, like most people who don't use advanced replenishment solutions, we buy everything based on a schedule. Can you imagine not have a replenishment optimization solution that told you that your items were getting low?
Moving from a typical schedule, where we buy every Wednesday or every other Thursday, to a replenishment optimization solution that tells you each morning which orders are needed to optimize replenishment (profitably)… raises service, lowers inventory and puts my team back in control.
[Chris elaborates…]
#4 – Customer experience
Mike: Chris, you have seen both worlds so you are in a great position to know where you will see financial impact of supply chain planning software and where your team will win hours back. This 4th area hits both!
Let me switch gears a bit. I know your main focus is to deliver financial results to the company. You want to reduce inventory, improve customer experience, and free up cash. But what about areas that will impact the culture and the mood of the inventory department?
Chris: I have thought about that and it's an easy answer. I was used to having a control knob for the inventory level. I am anxious to drive the inventory properly through better customer experience and service. We want to set a really intelligent mix of service goals, and then be able to easily shift the mix if we need to pull a few million dollars out, or if we have to increase our customer image in a region.
That process used to be trial-and-error, and soon it will be a precise process where I know the numbers ahead of time.
#5 – Inventory control through analytics
Dan: I remember so well when I was in that seat, Chris. Having that control knob gave us confidence. You are always ready to show a sales leader or executive why you can't afford their great idea of 99.9% service on all items.
What about the ability to see your inventory? Do you have strong views now? Or will this move take the blinders off?
Chris: We can't see the inventory investment the way we WANT to or NEED to today. We will finally have smart, supply chain analytics and dashboards that tell us stories we can put into action…
[…
Chris continues]
CONCLUSION
Will: Chris, these are all great. As we close today's episode, how about a rapid-fire round? A bonus. Give us a few bullets of other areas – some freebies – where you know you will see great benefit from supply chain planning software.
Chris: Absolutely. [Discusses a few more]:
Buyer Training & Development… It's a huge part
Managing promotional events
Making money on forward buys or investment buys
And so many more…
Will Closes: Chris this is great inventory reality TV!
We would love to come back and check in during your journey. I know our supply chain community can learn from your experience and success…. and many of them might reach out to share insights with you.
Thanks to our panel today. 
Global Industrial is a Leading Distributor of Material Handling Equipment, Storage Solutions, Workbenches, Office Furniture, Safety Equipment, Tools, Motors, HVAC Equipment and more, carrying over 1,000,000 commercial and industrial products.
Learn more about supply chain planning and HVAC SCP solutions.