— Agile platform approach blends inventory data science, pricing optimization, and robust resources to unlock new customer value streams through greater business resiliency —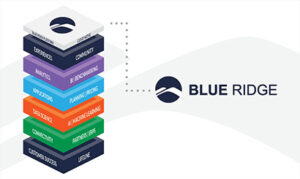 ATLANTA, January 26, 2021 – – Blue Ridge, a leader in Planning and Pricing software solutions, today unveiled their 'Made for Now' supply chain Platform. The Blue Ridge Platform is illustrative of extensive investments in re-imagining supply chain resiliency for their customers. Being cloud-native and fully configurable for wholesale distributors, specialty retailers and discrete manufacturers, the Platform speeds time-to-value and removes IT friction for people looking to boost their businesses' digital dexterity. Its real-time monitoring and mitigation of risk – such as supply shortages, unpredictable lead times, variable buying patterns, multi-channel selling and fulfillment, and inconsistent or unprofitable pricing – enables companies to transform profit eating reactive responses to profit pumping proactive performance.
"Global digitalization and the rapid pace of change in today's Experience Economy continue to reveal competitive threats and risk on a gargantuan scale," said Ed Rusch, chief marketing officer, Blue Ridge. "Our configurable supply chain platform re-imagines resiliency, giving businesses friction free tools to accurately and efficiently predict these threats, identify untapped opportunities, and respond faster to the always evolving demands of the market or expectations from their customers."
Blue Ridge's Planning and Pricing Platform blends secure, next-gen cloud-based approaches with data science-rich capabilities; frictionless connectivity; full S&OP collaboration and alignment; consulting and educational resources – architected for quick ramp-up, max profitability and adaptability.
"The Blue Ridge Platform is brilliantly constructed for low-barrier entry and rapid value delivery, without becoming a big IT project," said Jeff Jenkins, chief revenue officer. "Customers can easily tap into contextual insights and make timely, lucrative decisions – versus getting stuck in a routine of blind replenishment, backorders, safety stock and uninformed prices based on gut instinct."
More information about the Blue Ridge platform can be found on the Company's freshly updated website at www.blueridgeglobal.com.
About Blue Ridge
Blue Ridge Supply Chain Planning and Price Optimization solutions empower distributors and retailers to tap into undiscovered margin through enterprise-wide inventory intelligence, automation and synchronization. Blue Ridge uniquely combines demand forecasting with pricing strategy, so that businesses can proactively understand the unpredictable and allocate the right inventory, right-priced across the entire mix, to accelerate top- and bottom-line results. In a world where the only constant is change, Blue Ridge provides more certainty, more speed and more assurance, so companies can see the why behind the buy and respond faster to the unexpected. That's why major retailers and distributors rely on Blue Ridge for a more foreseeable future. For more information, go to www.blueridgeglobal.com.