Unique Planning Precision for Unmatched Inventory Performance
Precision – Delight Your Customers & Avoid Unnecessary Inventory & Cost
Everyday your business encounters demanding customers, increasing competition, margin erosion, cost challenges and the constant threat of online behemoths like Amazon, Alibaba and others.
In order to effectively compete, you need forecasting and planning precision that assures sales and eliminates excess.
Blue Ridge's Cloud-native technology predicts demand and plans inventory with unprecedented precision, providing retailers and distributors the competitive edge needed to thrive in today's changing market dynamics.
Analyze every customer transaction to determine what caused demand and better predict future sales
Automatically plan considering every condition in the supply chain: probability, economics, even practical and exceptional circumstances like schedules, capacity limitations, order constraints, and more.
Provide prescriptive analytics with action-ready recommendations, without making people guess what to do
Create more accurate forecasts, precise demand and supply plans, and easy execution
Robust and highly automated forecasting, planning, and replenishment capabilities produce consistent service level improvement, eliminate excess inventory investment, and minimize risk.
1
Forecasting Is All About the Customer
1

Forecasting Is All About the Customer
Forecasting is about predicting your customer - understanding why and when they'll buy from you in the future, not just how much they've bought on average in the past.
Blue Ridge demand forecasting is more accurate, predictive and responsive than traditional solutions due to the unique approach of demand segmentation.
Blue Ridge creates segmented forecasts that consider causal demand that occurs due to influencers like promotions, demand due to supply chain constraints or commitments to particular customers, and also statistical demand patterns including trends and seasonality.
Where most only consider what happened in the past, Blue Ridge provides a 360 degree view into future demand enabling you to stay ahead of the curve by planning and positioning inventory as optimally as possible.
2
Build a Unified Demand & Supply Plan
2

Build a Unified Demand & Supply Plan
OK, you have a forecast.  So now what?
An accurate demand forecast means nothing if you can't translate it into efficient supply chain action.  You need to plan for demand and supply, along with the real-world constraints you face every day.
How do you do that?
Our Cloud-native solution includes unique PrecisionPlanning technology that automatically translates customer demand into a precise, economically optimized demand and supply plan – built for your specific supply chain realities.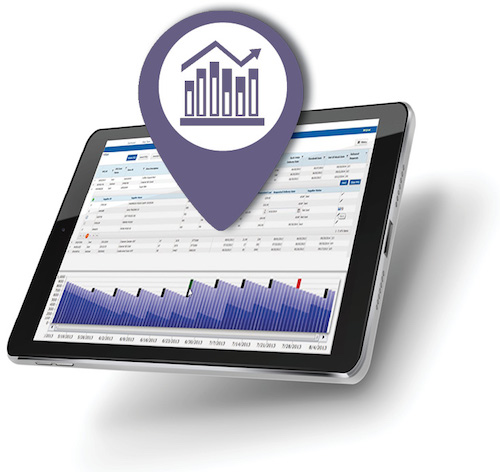 You define the business goals you'd like to achieve and the system returns a calculated, optimized inventory plan with actionable recommendations – a unified demand and supply plan generated without user intervention.
The unified demand and supply plan is projected two years in advance to provide ultimate visibility and collaboration within the organization and with outside trading partners. Furthermore, the plan is revised daily enabling rapid response to changing conditions.
3

Execute with Action-Ready Recommendations
3
Execute with Action-Ready Recommendations
A spreadsheet here, a spreadsheet there. Gut feel. Intuition.
They just won't cut it anymore. And you don't have to settle for that.  But your world is complex and you need to meet multiple goals that are seemingly at conflict
You can have it all without compromise.
Action-ready recommendations are presented to users in an intuitive dashboard that prioritizes daily tasks and exceptions to review. Manual work is eliminated and strategic profit driving opportunities are easily executable.
You benefit from algorithmic automation that learns from real-world demand and supply plan events to improve inventory investment accuracy.
A 2016 Gartner
Magic Quadrant Leader
Customers continue to act faster, expect more, and buy in completely new ways, making precision and visibility more necessary than ever. Get this Gartner research that shows 7 Keys to increasing sales and margin and the supply chain planning magic quadrant.
Why is Gartner's perspective important? Gartner provides an unbiased, research-backed view of Blue Ridge's ability to execute as well as completeness of vision. We're honored to be positioned as Leaders, and as the foremost retail and distribution focused provider we are eager to prove what we can do for your business. Take a look at the report and get in touch to see the impact we can make on your sales and bottom line.
Learn What Precision Planning Can Do For You