Blue Ridge 'Facilitates' Supply Chain Success Again in the
2023 Nucleus Research SCP Value Matrix
Nucleus Research recently released their Supply Chain Planning Value Matrix, and this year, Blue Ridge is honored to be recognized with an improved position in the Facilitator quadrant for our Supply Chain Planning and Demand Planning platform.
With talks of a looming recession, many companies across the board are tightening their technology spend.  Nucleus Research conducted their annual Supply Chain Planning Value Matrix and determined that there is one exception to this trend as it relates to Supply Chain Planning (SCP), where there is actually an influx of first-time buyers over the last year.
As a Facilitator in this matrix, Blue Ridge achieved an improved position in greater usability with the introduction of the next generation platform for demand planning, replenishment, S&OP and supply planning.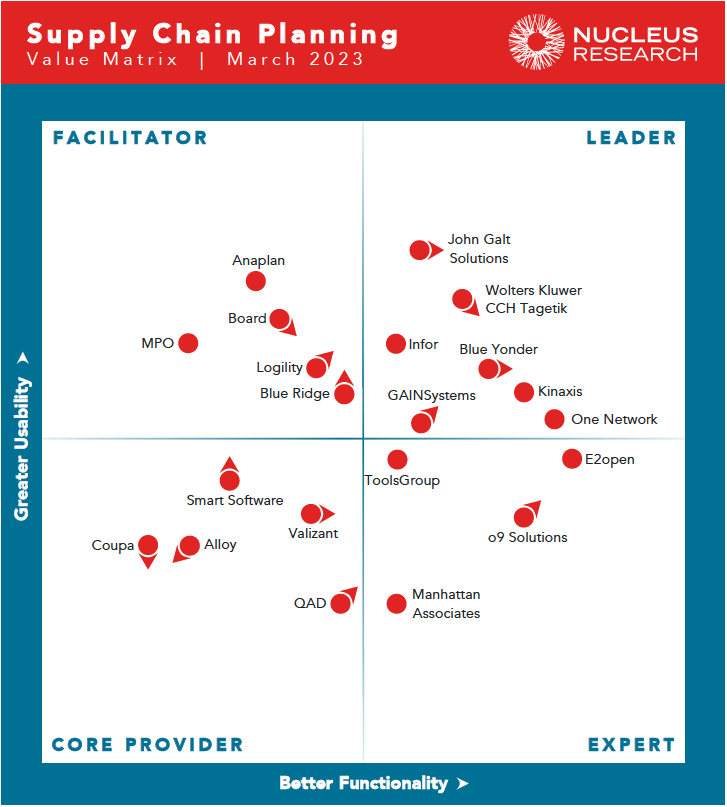 Blue Ridge's improvement in the SCP Value Matrix for 2023 stems from two major factors:
Facilitating operations and demand planning coordination by integrating with over 40 ERP out-of-the-box and external applications
Streamlining demand forecasting processes by automatically updating prediction models based on identified seasonality, demand variability, and new items
Trusted by the distributor, manufacturer, and retailer industries around the world, Blue Ridge offers a streamlined, easy to use solution, a strategic support and implementation program, and proven results that take the guess work out of selecting the right supply chain management partner.
Check out the full report here.