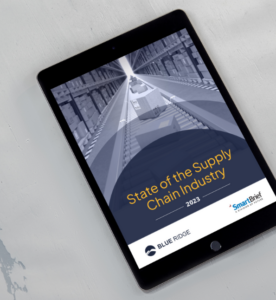 For the 5th year in a row, Blue Ridge has joined forces with SmartBrief, a leading publisher of industry news and resources, to present the much anticipated "2023 State of the Supply Chain Industry Report." This comprehensive report delves into the challenges, trends, and future directions of the supply chain industry.
In the wake of post-pandemic challenges, the supply chain industry continues to grapple with complex customer demand patterns, increasing market volatility, and the management of new product introductions. Despite these obstacles, the industry collectively achieved a year-over-year sales growth of 9% in 2023, reflecting resilience in the face of adverse economic conditions.
The report's key findings include:
Priorities and Challenges: Organizations are shifting their focus towards aligning with consumer demand and customer service. Complex customer demand patterns, increasing demand volatility, managing new product introductions, and long lead times are identified as the top challenges for the industry in 2023.
Inventory Management: Inventory levels have increased since the pandemic, but higher days-on-hand (DOH) do not necessarily improve SKU-level product availability and customer service. Long-term inventory management challenges persist, highlighting the importance of maintaining the right inventory mix and a lean supply chain.
Revenue Growth: Revenue growth remains a high priority for the industry, with nearly half of all industries considering it their number one goal.
Out-of-Stock Issues: Nearly half of all survey participants reported challenges in meeting consumer demand, emphasizing the need for effective inventory management.
Technological Advancements: Technology and advanced analytics, including artificial intelligence (AI) and machine learning (ML), are gaining momentum in the industry. However, organizations still struggle with justifying the cost trade-offs for adopting these technologies.
The report underscores the importance of implementing advanced technologies, like AI and ML, to enhance profitability and productivity, providing a competitive edge in the industry.
Blue Ridge's solutions are positioned to help customers improve forecast accuracy, reduce costs, and increase profitability by addressing inventory management challenges. The ability to accurately predict future trends offers a competitive advantage, enabling businesses to focus on growth without being overly dependent on macroeconomic shifts.
Want to learn more? Read the full report here.