This award recognizes influential individuals in the global cold food supply chain.
/Atlanta — Blue Ridge, the leading platform blending supply chain planning and pricing solutions created for resiliency, congratulates Adnan Maksoud, Senior Manager, Demand Planning for Shamrock Foods Company as a winner of Food Logistics 2021 Rock Stars of the Supply Chain award.
This award recognizes influential individuals in the industry whose achievements, hard work and vision have shaped the global cold food supply chain. This year's list includes individuals from software providers, consultancies, and academia, trucking and transportation firms, grocery retail and delivery outlets, and more, all who have met and exceeded in safety, efficiency, productivity, and innovation throughout the global cold food supply chain.
"These professionals are making waves in an industry upended by the global pandemic. Whether it is pivoting into a different channel or implementing emerging technologies, these supply chain leaders prove that hard work pays off," says Marina Mayer, Editor-in-Chief of Food Logistics and Supply & Demand Chain Executive. "These winners collaborated, optimized, developed, educated and played a critical role in the survival and success of their company amid a global pandemic. I am honored to recognize these individuals, and continue to extend my utmost gratitude to everyone in the cold food supply chain industry for their time, efforts and innovations to keep food moving through the chain in a safe and efficient manner."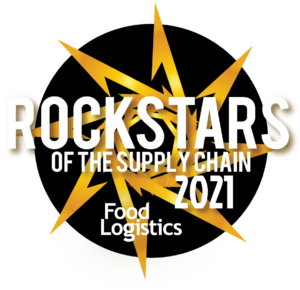 Recipients of this year's award will be profiled in the March 2021 print issue. Go to www.FoodLogistics.com to view the full list of all 2021 Rock Stars of the Supply Chain winners.
About Food Logistics
Food Logistics is the only publication exclusively dedicated to covering the movement of product through the global cold food supply chain, focusing on trucking, warehousing, packaging, risk management, food safety and more.
About Blue Ridge
Achieving a resilient supply chain sits at the intersection of demand, price, and inventory – where a company's customers, suppliers, and their operations meet. Blue Ridge's cloud-native planning and pricing platform gives Wholesale Distributors, Specialty Retailers and Discrete Manufacturers app simplicity that uniquely integrates data science-rich inventory forecasting capabilities with price optimization insights. From modeling, right-sizing inventory and seamless collaboration, Blue Ridge bases success off increases in customer profitability and service levels. Learn more at https://blueridgeglobal.com/ or request a demo at https://blueridgeglobal.com/request-demo/.