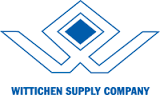 ATLANTA – August 8, 2023 – Blue Ridge announced today that Wittichen Supply, a leading distributor of HVAC Parts & Equipment with 25 locations, has selected Blue Ridge's cloud-native planning solutions to optimize its inventory. Wittichen Supply will leverage Blue Ridge's Demand Planning, Replenishment Optimization, Supply Chain Analytics and Multi-Echelon Inventory Optimization (MEIO) solutions to increase forecast accuracy, automate replenishment and drive inventory down across is product mix of HVAC parts and equipment for customers in Alabama, Florida, and Georgia.
"The Blue Ridge system's ability to leverage artificial intelligence and machine learning to increase forecast accuracy, and optimize our inventory based on economics, fill rate goals, seasonality and more enables us to increase automation, reduce operational costs, increase service levels, maximize our working capital and assure product availability to our customers," said Matt Helms, Branch Operations Manager, Wittichen Supply. "Blue Ridge's experience as a HARDI Proven partner and success working with other similar HVAC distribution customers was vital to our decision to invest in this essential supply chain planning technology. They also work with other Epicor Eclipse users and provide better results than we've been able to achieve with our ERP."
"Blue Ridge understands the unique challenges that HVAC distributors face, given the highly erratic and disruptive nature of the industry. From slow moving and intermittent items to the high impact of seasonal buying patterns layered into a capacity-constrained multi-echelon distribution network," said Dawn Russell, Chief Customer Officer, Blue Ridge. From regulation changes, inflated inventories, and higher prices. "Our Supply Chain Planning and MEIO solutions allow Wittichen to predict these costly disruptions and align inventory with great precision, delivering the best service to their customers at the lowest overall cost."
With the implementation of Blue Ridge MEIO and Supply Chain Planning solutions, Wittichen Supply can create fully configured orders and highly efficient inventory allocation across locations and channels. Orders are economically optimized to Wittichen Supply's goals for up to 24 months in advance. The system makes precise and automated order predictions without user intervention, while adhering to order schedules, constraints and SKU-level rounding requirements.
This partnership reflects Wittichen Supply's commitment and dedication to providing unparalleled value to its customers.
About Wittichen Supply
Wittichen Supply is a leading wholesale distributor providing the best in class HVAC/R equipment, parts, and supplies to licensed HVAC/R contractors in the Southeastern United States. With 25 locations covering Alabama (21), Georgia (2), and Florida (2), chances are, if you are in need of HVAC/R parts or supplies there is a fully stocked Wittichen branch near you. With our large inventories and customer friendly employees, we are ready to serve you.
Wittichen Supply along with Benoist Brothers, Nu Comfort, Coastal Supply, and Ed's Supply make up Heritage Distribution Holdings which is owned by Beijer Ref.
About Blue Ridge
Blue Ridge is a leading provider of supply chain management solutions, offering comprehensive and easy-to-use software for demand planning, replenishment, inventory optimization, and Sales & Operations Planning that achieves positive ROI within months. Blue Ridge's simple, scalable, and powerful supply chain management solutions allow businesses to break free from spreadsheets and inadequate ERP planning modules, enabling them to leverage a data-driven and AI-powered supply chain planning engine, supported by world-class customer support.