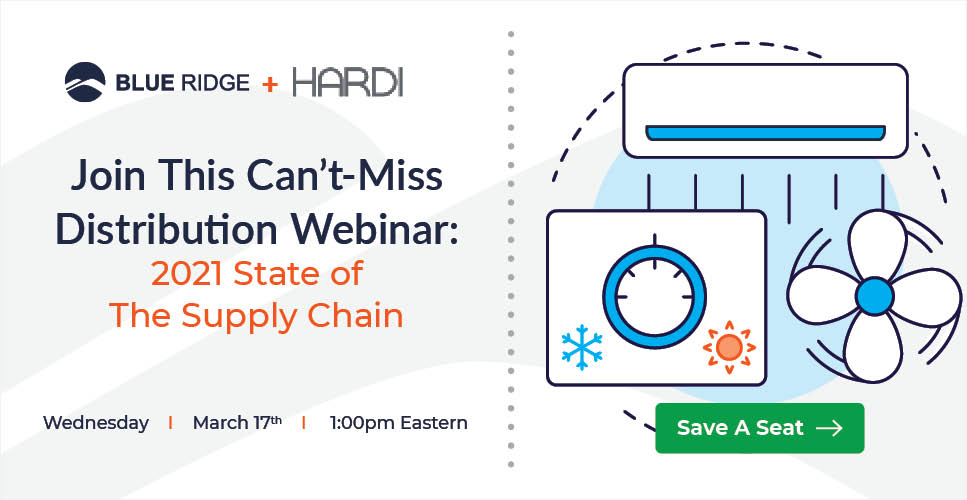 EDITORIAL UPDATE: This event occurred in the past. You can now watch the recording here.
Blue Ridge and HARDI proudly present the next inventory planning webinar in our "War Stories" series: 2021 State of The Distribution Supply Chain". This one's for you, HVAC, Plumbing and Electrical distributors!
Attendance to these supply chain webinars just keeps getting better – with the last episode focused on Food Distribution with UniPro Foodservice. If you or someone you love works in the the food space, grab the replay here.
If Hardgoods distribution is your jam, be sure to check out this related HVAC supply chain webinar we did in November 2020.
The Scoop Behind The "War Stories" Webinar Series
Every industry has its own unique inventory challenges. Blue Ridge has deep domain expertise in various industries and proven strategies to solve those challenges. So we figured, why not share the war stories of others in your industry so you can conquer your issues and build resiliency in your own supply chain planning operations?
What to Expect
These industry-focused webinars answer the question, "What's The ROI Of Supply Chain Planning Solutions?" There's typically a guest presenter offering their expert insights and advice, followed by a metrics-filled dive into how your peers have used supply chain planning solutions to provide better service levels with less inventory.
HVACR Distribution Takes Center Stage
If you are an HVAC, Plumbing or Electrical business, REGISTER NOW for this free webinar, which takes place on Wednesday, March 17th at 1:00 ET.
If this past year has taught us anything, it's that complacency is out, and resiliency is a top priority. The HVACR distribution industry was hit hard last year, presenting businesses like yours with either too much inventory, resulting in cash tied up on shelves/in warehouses, or inventory shortfalls and poor service levels, jeopardizing sales.
This webinar will show you how to get your HVACR distribution inventory forecasts in lock step with customer demand – even when safety stock seems like the only answer.
[Pro Tip: Can't wait for the webinar? Get HVACR supply chain strategies right now!]
During the webinar, special guest speaker Tim Fisher, HARDI's Team Leader, Market Intelligence, will discuss trends in the HVACR, plumbing and electrical distribution industry that are complicating life for demand forecasting and planning teams.
Blue Ridge supply chain experts will then walk you through the '7 wrong turns in inventory planning' and how to avoid them – including examples of how your peers have used advanced supply chain planning solutions to realize significant value in <90 days.
****Registration is closed. Event has already happened.****