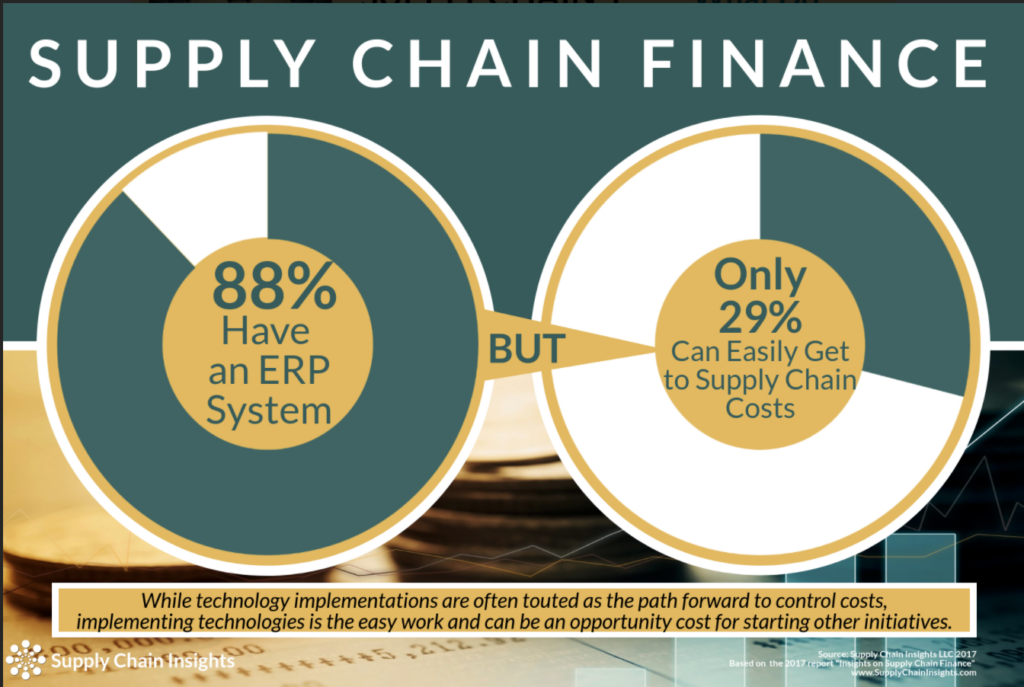 Supply chain finance is always a thorn in companies' sides. Right now it's the entire rose bush, with very little information on how to track supply chain costs. While the guy or girl who wrote a check for that big ERP implementation says that's the answer, it is most certainly not.
I was looking for information on how much success folks have had with using ERP or WMS software to track supply chain costs and I ran across this infographic, from Supply Chain Insights which I found interesting.
"While technology implementations are often touted as the path forward to control costs, implementing technology is the easy work and can be an opportunity cost for starting other initiatives."
It raises the question, how well can you track your supply chain costs (really???)?
Supply Chain Finance: Most Firms Suck at it
Just because someone handed over the keys to an expensive ERP or WMS system, it doesn't mean you have actionable tools to make a true difference. Clearly.
My guess for a lot of people reading this is that you are drowning in spreadsheets or manual calculations to get supply chain finance data that is still old or bad.
Most of the customers we work with came from that type of environment where they had no idea what they were spending on. Somewhere between excruciating calculations/legwork, Excel imports, and tons of guesswork, they were still coming out with about 20% more invested in safety stock than necessary trying to chase goal posts that just kept moving.
The visibility was just never enough. The forecast was always off. Their team, always stretched to the limit — yet still seeing poor financial results.
A Purpose-Built Alternative
These mammoth ERP and WMS systems were not built to plan inventory investments, build accurate forecasts, replenish orders and price assortments in a way that is flexible or agile to the needs of the modern customer.
When they get to Blue Ridge, they are blown away by the difference. The depth of intel, automation, visibility and collaboration extends the barriers of what is possible.
Blue Ridge's purpose-built platform of highly configurable tools knits together an important story between market demand trends and the economics behind the supply chain investment… One that carves a path to continuous improvement and cost control, which then opens up capital for new initiatives you never imagined.
Shout out to Lora Cecere and Supply Chain Insights for letting us borrow the above image! We appreciate all the hard work and research you do for the supply chain community to drive education at a time when supply chain is so overwhelming.
FREE Virtual Supply Chain Conference
And speaking of education to help those struggling to navigate supply chain chaos, I would highly recommending signing up right now for the biggest and best FREE virtual supply chain conference coming up Sept. 23-24:
BLUEPRINT 2020! Get info and claim your spot here.
Related articles:
Never Trust an ERP or WMS Solution for Supply Chain Planning