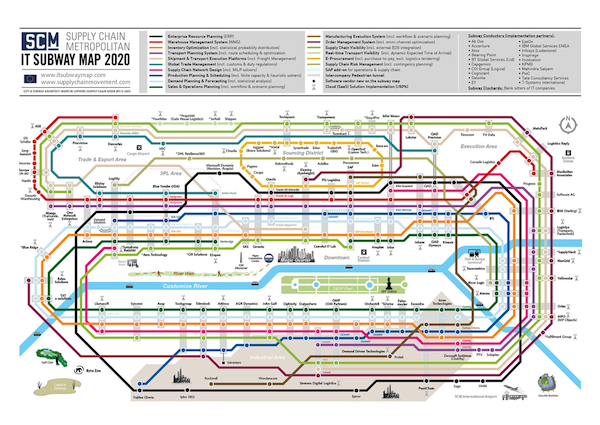 Blue Ridge is pleased to announce we've earned a spot on Supply Chain Media's IT Subway Map, a useful shortcut to locating various supply chain software vendors in Europe.
The map offers an objective visualisation of the different types of supply-chain software solutions (ERP, WMS, TMS, etc.) available.
Companies searching for a software solution can use this map to determine which solution is the best fit and which vendors they can approach for implementation.
How the IT Subway Map Works
It literally looks like a London subway map.
The IT Subway Map recognizes software companies based on the number of implementations and the share of revenue for each software type in Europe.
Companies with offices in several European countries have a subway station on software lines according to how they rate over a minimum threshold of customers and/or revenue share. One company may have a subway station on any number of software lines.
Each company has been allocated a specific position on the map. This is based on the number of implementations and the share of revenue for each software type in Europe. The more contact there is between companies, the closer they are located on the map.
This is especially helpful when analysing biggest competitors and possible collaborations.
Demand for Supply Chain Software: The Data
As part of the research conducted for Supply Chain Movement's 10th annual SCM IT Subway Map Europe, software vendors of a broad cross-section of supply chain solutions were asked which type of software would be in most demand after the COVID-19 crisis.
The study found that:
¾ of respondents predict supply chain visibility to be in highest demand, followed by demand planning and forecasting (42%)
Inventory optimization and supply chain risk management were each mentioned by ¾ of respondents
These types of supply chain solutions are extremely useful during the crisis, which is causing considerable uncertainty about demand, stock availability in the supply chain and the risk of bullwhip effect
Blue Ridge is a smart choice, given that it delivers supply chain visibility, demand planning and forecasting, collaboration with S&OP, and multi-echelon inventory optimization – plus price optimization and a host of other benefits, in a unified cloud solution which can begin delivering results within 90 days of rollout.
Where to Find the Map
A downloadable PDF and interactive, clickable online versions are available at: www.itsubwaymap.com.
For information on Blue Ridge supply chain planning solutions in Europe, please contact Blue Ridge.
Related Software Selection Guide:
The 'Why, Who, What & When' of Replacing Your Outdated Supply Chain Planning Solution: